L P International Inc., will be giving away a PowerMate® L-1 stair climbing hand truck to one lucky business this spring in an effort to raise awareness of this highly versatile and dependable powered safety moving machine.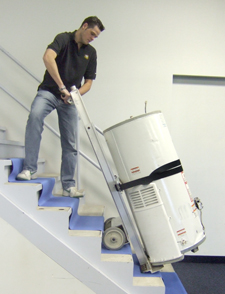 Anyone can enter the promotion by completing the form on the PowerMate website (only one submission per business location will be entered) with the draw taking place in late June and the Winner announced in early July.
The PowerMate L-1 is one of our top sellers due to its light weight, rugged construction, ease of use and overall versatility. The PowerMate L-1 is used extensively in the plumbing and HVAC trade to move water heaters into basements as well as remove the old heavy sludge filled heater out. The L-1's narrow profile and ability to maneuver while in a tight spot make this a unique solution for tight landings and stair wells.
The PowerMate L-1 can be used to unload and load vehicles up to 40" in height. The battery can be charged from the vehicle's electrical system using our patented Smart Charging System that senses the vehicle battery charge and shuts down charging if the vehicle charge drops too low.
This solid state machine is extremely efficient and uses high-tech long-life batteries that last from 4-7 years. These batteries are of the 'sealed gel' type and will never leak. The battery has no memory and is designed to be left "on charge" and cannot be overcharged.
Previous winners of the PowerMate Giveaway include Bruce Silverman of Airite Air Conditioning, Tampa Florida & Paul Scott of Paul's Plumbing, Heating and Air Conditioning, West Point, Iowa .
We wish everyone luck who enter the promotion but remind entrants that there is only one winner. If you are seriously interested in owning a PowerMate product we urge you to contact a PowerMate solution specialist today for the best deal on a PowerMate stair climbing hand truck.
For other PowerMate products check out the PowerMate product overview page.