What's a hot commodity this time of year? PowerMate's very own LE-1 Stair Climbing Hand Truck. As this is the time of year when wood and gas stoves, gas fireplaces, and alternative stoves are more commonly moved and installed, our LE-1 finds a good niche. From March 13th through March 16th, we'll be exhibiting our PowerMate LE-1 Stair Climbing Hand Truck at the Hearth, Patio & Barbecue Expo 2013 at the Orange County Convention Center in Orlando, Florida. The PowerMate LE-1 is very popular with gas fitters and anyone doing wood, pellet or gas stove installations because it's ideally suited for moving wood stoves.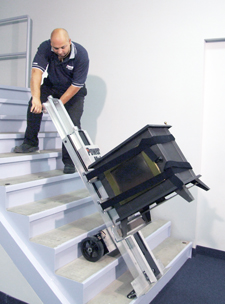 What's really unique about the
is the fact that it has two (2) drive screws, which allow the user to adjust the center of gravity of heavy loads and to easily lift the stoves onto hearths and elevated surfaces. Other features of the PowerMate LE-1 that make it so helpful to wood stove installers include:
A motor that provides 100% of the lifting.
A maintenance-free 12 Volt rechargeable battery.
Small footprint and high maneuverability in tight spaces.
Unique load elevation – "stacker" – capabilities with no attachments.
Hand-operated wheel brakes for greater safety.
Solid state circuitry.
 

Like all PowerMate stair climbers, the LE-1 also acts as a well-balanced dolly, curb and dock leveler, and tail gate lift. To learn more, we invite you to review our NEW White Paper.
Our current customers rave about the PowerMate LE-1 and its abilities: "It has been phenomenal in helping with hundreds of installs that we have completed in the last two years. Thanks for a super piece of equipment and great service," says Mainline Heating & Supply Co.
Bowman's Stove says, "The PowerMate has more uses and we especially enjoy the stacker feature! We use it to raise the woodstoves onto displays in our showroom and onto hearths in customers' homes… One person can do it all with a PowerMate. It really is an amazing machine!"
We expect more of the same type of "rave reviews" and that the PowerMate LE-1 will be a hot topic of conversation when we show it off at the HPBExpo in Orlando in March. If you'll be there too, be sure to stop by to say hello and to see the PowerMate LE-1 in action. We'll be in Booth #1322. Hope to see you there!